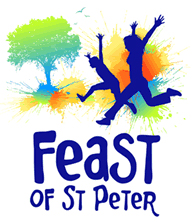 What a Fantastic Day!!!
Feast Day just gets better and better.  Despite an overcast sky and drizzle to start the day, the event, together with the weather, got better and better as the day progressed.
A fantastic selection of stalls, arena and stage events was followed by an evening of great music from Pheel Lizzy and the Rollin Stoned.
An even bigger crowd than 2010 enjoyed the evening concert.
2011 Sponsors included
MAIN STAGE & PA SYSTEM
Chalfont St Peter Parish Council
ARENA
Fairweather Insurance Services
PROGRAMME
RWS Group Translation & Search Services
TOILETS
The Fun Fair
GOLD SPONSORS
Chalfont St Peter Parish Church
Gold Hill Baptist Church
BRONZE SPONSORS
Tim's Dairy
Knipe Woodhouse Solicitors
Chalfont St Peter Chamber of Commerce & Keep It Local
Thorpe House & Kingscote Schools
The Vantage Pharmacy
Charities
Profits from the Feast of St Peter event are distributed to local charities & good causes.
The 2011 recipients will be:
Helen & Douglas House – Hospice
Leonard Cheshire Home
Chalfont St Peter Parish Church – Floodlight appeal
Chalfont Girl Guides – new Guide hut roof appeal
The ATC
2012
Plans are already under way for next year's event (June 30th) and we would be very interested in hearing from anyone who may be willing to volunteer to help with programmes selling before the event, stewarding on the day and litter clearing on the day after. A new page with details of the 2012 event will appear on www.feastofstpeter.org.uk shortly.