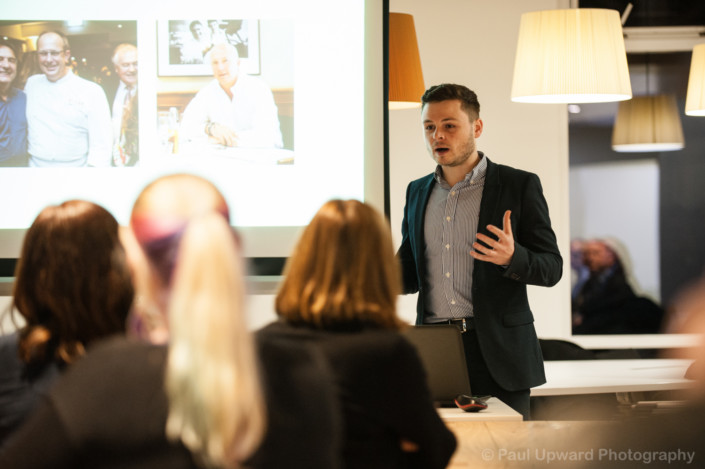 Thanks to everyone who attended the Chalfont St Peter Chamber Seminar on Wednesday evening and helped to make it such a success with wonderful networking opportunities.
Heart felt thanks to our seminar team Marie Cavanagh, Aman Phull and Ana Rita Moio for organising a very well attended event in the newly furbished Spaces offices in Chalfont Park. The evening began and ended with plenty of opportunity for meeting and greeting over a glass of wine. The hospitality was generous, and the canapes were simply delicious.
Chamber President Andrew Welch then introduced three excellent speakers.
Spaces top man Grey Thompson told us all about Spaces and we learned that it's is not only for meeting or office space but is actually a community asset for networking potential.
Omar Sharif El-Magowry who shared the well-deserved success of the newly refurbished White Brasserie 'Jolly Farmer', which opened it's doors at the end of October and is currently running as top restaurant in Chalfont St Peter and third placed restaurant on Trip Advisor across the locality of Gerrards Cross and Chalfont St Peter.
Jon-Paul Hardy from St James' Place gave a very frank summary of the current financial situation in the UK and how we should consider investing our money. The information about pensions and our own futures certainly gave us food for thought.
The evening finished with a presentation to Georgiana and Ton Sol who have retired from Flowers Unique. Georgi is a very active Chamber member and we hope she continues to be part of our community.  It was very exciting to meet the new managers Sam and Mark, and we wish them  every success.
The next Seminar will be on the 17th May – keep an eye out for details!
Many thanks to www.paulupward.co.uk for the image.