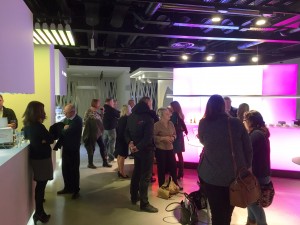 Wednesday 23rd March saw the very first of our free networking events which more than 30 local businesses attended.  The seminar was hosted by Zumtobel – a lighting company in Chiltern Park who presented on LED lighting and how it can help businesses save money.
The venue was pretty impressive with interesting lighting displays for both retail and corporate clients.
The first guest speaker was Marie Cavanagh from Fired Works who presented on her hand made glass art and fine silver jewellery.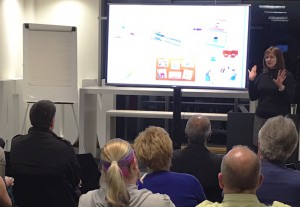 Next up was Nadine Wood, a local fine art photographer who specialises in studio portraits, new borns, weddings and also covers live events as a photojournalist. 
We then saw Rachel Sherfield who has just written, illustrated and published her first children's book with a very important message. 
Lastly, and by no means least we welcomed a new trader to the village; Natasha from Spoilt Rotten, who told us all about her new dog grooming salon and boutique. 
All presentations were very interesting and it's fair to say that a lot was learnt about the village businesses – illustrating how traders can benefit from helping each other to spread the word about the wide variety of products and services available locally in Chalfont St Peter.
Click here for details of the next exciting 'Keep it Chalfont' seminar which is being held on 15th June. 
If you would like the opportunity to showcase your business please click here to contact us.