As usual, we'll be present at Feast Day – from 10am to 6pm on Saturday 25th June – raising money to keep the Chalfont St Peter street decorations – flags and Christmas Lights – looking good and shining brightly.  There will be our usual raffle for a hamper packed full of goodies, as well as activities for children – including face painting for donations to the street decorations fund.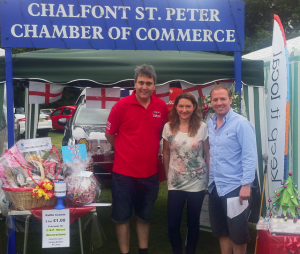 This year we will also be focusing on celebrating the many fantastic businesses we have in Chalfont St Peter, with a picture board of beaming business owners – so do come along to find out more, as we're sure we'll be able to tell you something you didn't know about our varied community of superb local traders.
Our stand is number 89 – in the usual location, to the right of the main stage, close to the corner nearest to the village centre / Market Place.
We hope to see you there.