It's 'business as usual' in Chalfont St Peter as work takes place in Market Place in connection with the development of the former Holy Cross site into a stylish new residential development. To allow the work to be done safely, parking has been suspended along Market Place for the next few weeks.
It may give the impression that Chalfont St Peter has closed for the summer but shopkeepers are undeterred, the shops are still open and ready to serve customers.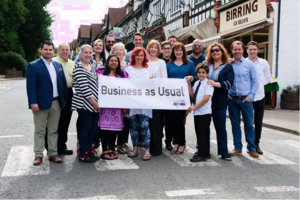 Marie Cavanagh, Chamber of Commerce committee member and owner of Fired Works, said: 'On the face of it, this could be an awkward time for Chalfont St Peter businesses, but we're taking the opportunity to do different things, like Sunday opening, announcing special offers and sharing our goods and services more visibly on social media. Lots of people have said to me that it's been ages since they took the trouble to walk into the village and are discovering shops and other services they didn't know about! There is a great community spirit amongst the shopkeepers and we are working together. There are new shops opening soon too.'
Natasha Hutchinson of Spoilt Rotten Grooming, said: 'Everyone is in agreement that the development of the pathway will be beneficial, the new entrance will give residents direct access to all that the village has to offer. We are doing what we can to support each other as businesses but also as shoppers'
The Chamber of Commerce have been working with Persimmon Homes, the developer, to minimise the effect to the village community but were unable to persuade them to refund parking charges or pay for information banners.
There are plenty of fantastic shops in Chalfont St Peter; fashion, hair design, domestic appliances, fused glass studio, coffee shops, picture framing, design and printing and dog grooming to name just a few. Details of any special offers, promotions or extended opening hours during the duration of the works can be found on the Chamber of Commerce website: cspchamber.co.uk/keep-it-chalfont.