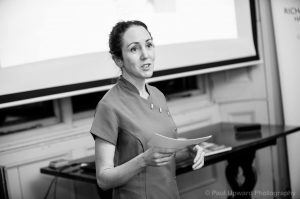 Keep it Local Seminar Jan 2018
January 18th saw another of our popular 'Keep it Local' seminars, this time held in one of the village's more hidden away locations – Diogenes Sun Club, our very own local naturist club! Perhaps it was partly due the unusual location, which is rarely seen by local non-members, but the event attracted one of the biggest attendances we've had at one of these fun and informative events.
As always, the evening began with some great networking, held over food and wine – the food this time courtesy of Chef Zhu in the village. This is great opportunity for local business people to reconnect, or indeed establish connections, and the buzz of conversation is always a pleasure.
We then had presentations, firstly from Andrew Welch, our outgoing President, who updated everyone on the progress of the Chamber over the last five years and why is it so valuable to the village, then from Andy of Diogenes, Emma and Hayley from Calme Health and Beauty, Richard, from Richard Robert Hairdressing and lastly Jennie and Stephanie from the Wonky Agency. It's always a highlight to have local businesses showcase what they do – and it helps us all to have a far richer understanding of the variety of high quality local businesses we have in the village.
If you've never been to one of these seminars, you are really missing out. They are a great way of getting to know your fellow local business people, connecting, collaborating and being part of our local community – the very essence of what 'Keep it Local' is about.
See you next time…?